South Sudan flooding crisis
Third year of severe floods leaves nearly 800,000 people struggling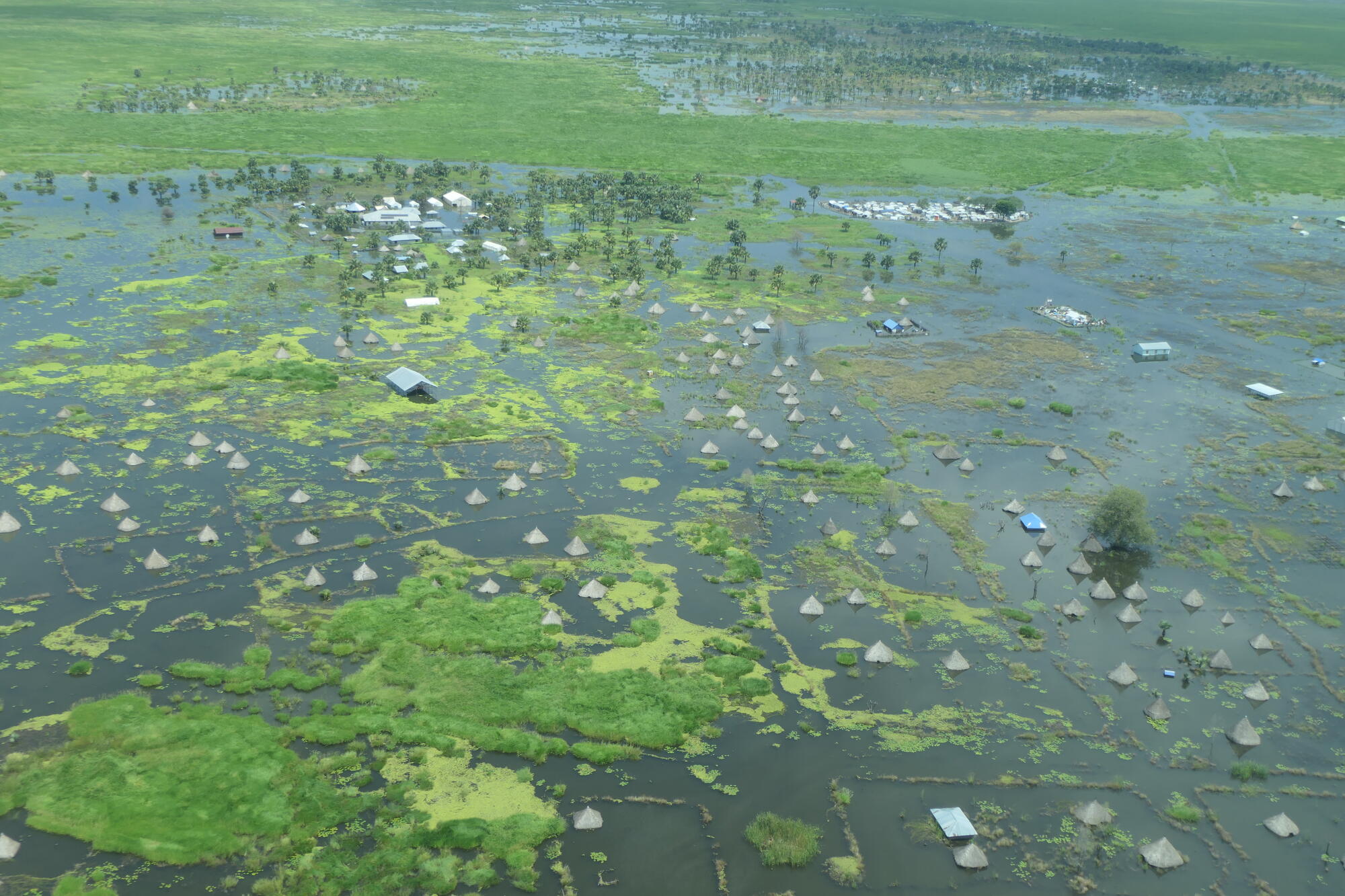 South Sudan is facing a severe flooding crisis that has hit almost 800,000 people.
Vast regions of the country are affected by rising water levels. Tens of thousands of people have been forced from their homes and deadly disease outbreaks are on the rise.
Since May 2021, flooding has hit eight out of 10 states, with Jonglei and Unity states – where MSF runs three medical projects – being the worst affected.
These are the most extreme floods that South Sudan has faced for decades, however water levels are still on the rise and more rain is forecast to come.
In Bentiu – where a massive displacement camp now hosts over 120,000 vulnerable people – the situation is extremely serious.
Right now, people across South Sudan are in urgent need of medical aid, safe drinking water and important items such as shelter and mosquito nets.
Food insecurity is also a major concern, with Médecins Sans Frontières / Doctors Without Borders (MSF) teams reporting widespread malnutrition among children.
The information below is correct as of 18 November 2021.
Help us save lives
Our independent funding from private donors like you allows us to respond to natural disasters like the flooding in South Sudan unhindered by political agendas.
We've been able to move quickly because we encourage donors to give unrestricted funds, which means we can spend them where the need is greatest. Thanks to the generosity of people like you, there is no delay in mobilising, no wait for government funds to be released and no lag as donation appeals are launched. We can act immediately.
MSF's response to the flooding crisis
Bentiu in Unity state is home to a massive displacement camp the hosts more than 100,000 people in overcrowded and dangerous conditions.
Here, MSF runs a large hospital including an emergency room, paediatric and maternity wards and an operating theatre. Outreach teams work with displaced people across the huge site, while a clinic in nearby Bentiu town provides basic healthcare services.
The flooding has seen numbers inside the camp rise from 108,000 to 120,000 since August as more people try to escape the rising water. Around 25,000 newly displaced people have also arrived in Bentiu town and are currently living in makeshift camps.
The UN is currently building and reinforcing dykes around the camp and town, however, there is a very real risk that these may collapse against the waters and cause further disaster.
The situation inside Bentiu camp is now dire. Food insecurity is a critical concern, with MSF teams reporting malnutrition rates above the 'emergency threshold' and food rations cut to 50 percent.
Meanwhile, the water and sanitation situation is extremely serious. The floodwaters, combined with the large number of new arrivals and the already limited access to latrines and safe drinking water, now mean that there is a high risk of waterborne disease outbreaks. This includes hepatitis E, cholera and malaria.
The MSF hospital in Bentiu camp is already operating at well over capacity. Most patients are young children in the paediatric ward.
An MSF emergency team – including water and sanitation specialists – arrived in late October to support an emergency response.
At the same time, mobile clinics are now providing basic healthcare, nutrition, vaccinations and services for sexual and gender-based violence to the 25,000 newly arrive people in Bentiu Town. Since 2 November, these teams have carried out over 1,700 medical consultations.
In Leer, Unity state, around 15,000 people have been displaced by the flooding, while thousands more have been affected throughout the surrounding counties.
MSF runs a health centre in Leer town, providing basic healthcare, an emergency room and maternal and newborn care. We also offer services for sexual and gender-based violence, HIV, tuberculosis and the treatment of snakebites.
Critical patients are stabilised at Leer before being transferred to the Bentiu camp hospital.
The floods have driven an increase in patients suffering with acute water diarrhoea and snakebites arriving at the centre. We are now increasing staff to cope with the influx.
Elsewhere in Leer, MSF teams are assessing the needs at three camps hosting the 15,000 recently displaced people. Two community healthcare teams are now working at these sites.
Although serious, the water and sanitation situation is thankfully less urgent than at Bentiu. Our teams are now taking preventative action to maintain hygiene – including installing 130 latrines across the camps – and planning a potential emergency response.
In Old Fangak, MSF runs the only hospital in an extremely remote wetland area of Jonglei state. The hospital is also used as a base for our mobile clinic and outreach teams working across the flood-prone region.
Between May and September 2021, 174,000 people were displaced by the flooding in the state, with Fangak county being the worst hit.
In the nearby county of Ayod, around 6,000 more people were marooned on various 'islands' by the rising water. One MSF clinic here was destroyed and the team evacuated.
From August, MSF teams have been reaching these cut-off islands to carry out mobile clinics with the support of local volunteers.
Over nine days, 1,125 medical consultations were provided, mainly for malnutrition, diarrhoea and respiratory tract infections – all linked to poor living conditions and limited water and sanitation. However, our teams reported a critical food insecurity situation, with 26 percent of children suffering from malnutrition.
We distributed therapeutic foods to families as well as thousands of 'non-food items' including soap, mosquito nets and shelter materials. We also provided vaccinations for children under five and pregnant women, and transferred critically ill patients to larger medical facilities.